What does the future hold for backyard design? As it turns out, it'll likely have something to do with the color purple.
Last week, Pantone announced its new Color of the Year: Ultra Violet. This "dramatically provocative and thoughtful shade" was chosen for its complexity, counterculture sensibilities (Prince was an early pioneer of Ultra Violet, after all) and mystical qualities. As Pantone writes on its website:
"Historically, there has been a mystical or spiritual quality attached to Ultra Violet. The color is often associated with mindfulness practices, which offer a higher ground to those seeking refuge from today's over-stimulated world. The use of purple-toned lighting in meditation spaces and other gathering places energizes the communities that gather there and inspire connection."
You have to admit, that sounds pretty perfect for the backyard space. And from plantings to patio furniture, there are plenty of ways to incorporate the electrifying hue into your next design. For proof, just scroll down.

Plants like salvia (also known as sage) are perfect by the pool: They're low-maintenance perennials that thrive in the sun and attract hummingbirds. Blending salvia and nepeta (also known as catmint), like above, creates an alluring, impressionistic blend of purple shades.
Rhoeo plants are another low-maintenance option for the backyard, and are often used in groundcover or border applications. The "Stripe Me Pink," a variant of the classic rhoeo plant, offers a deep pink/violet color that adds lush dimension to the backyard.
Lighting is one of the easiest ways to give the backyard a new look. With a color-changing pool light, your customers can choose from a rainbow of colors at the push of a button.
Purple, especially a darker shade like eggplant, is a great choice as an unconventional neutral shade and helps accent colors (like orange) really pop.
Think of umbrellas, seat cushions and accent pillows as canvasses that can be used to highlight a bright punch of color, like above. Fabric is also relatively low-commitment — homeowners can easily swap new colors in and out as they please.
The bold purple above lends a sense of fun to an otherwise serious, minimalist space.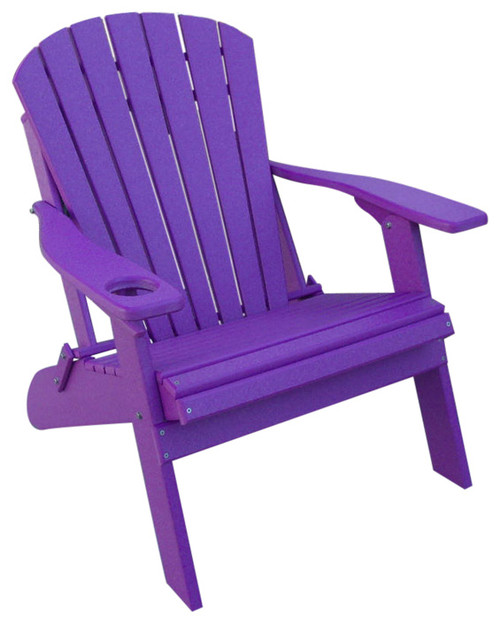 Finally, the Adirondack chair is a backyard classic, and versatility is a big reason why. They now come in just about every color under the sun, providing homeowners a low-cost way to bring color to the backyard.